30 Minuten So kommen Frauen in Führung!
Februar 2018
"Es ist an der Zeit, dass Frauen mit neuem Selbstbewusstsein in Führung gehen", fordern die Autoren dieses Buches. Mit nur 3% Frauen in den Vorständen bildet Deutschland zusammen mit Indien im Jahr 2017 das internationale Schlusslicht in Sachen Gender Diversity – ein wirtschaftliches Desaster: Anerkannte Studien belegen, dass Unternehmen, in denen mehr weibliche Führungskräfte in der Führungsetage sitzen, einen grundsätzlichen Wettbewerbsvorteil besitzen. Zudem besteht noch immer ein Gehaltsgap von 17,3% zwischen den Geschlechtern. Gleichzeitig gilt paradoxerweise aber auch: Frauen hatten in der Geschichte der Menschheit noch nie so gute Karrieremöglichkeiten wie heute. Nutzen wir dieses Potenzial!
Erfahren Sie in diesem Ratgeber, wie Frauen die Hindernisse, denen sie auf dem Weg nach oben begegnen, überwinden können, indem sie überholte Glaubenssätze ändern und sich Erfolgsstrategien aneignen, die auf neuesten Kenntnissen der Psychologie und Neurowissenschaften beruhen. Finden Sie mithilfe von Tests und Checklisten den für Sie passenden Führungsstil, reflektieren Sie Ihr Kommunikationsverhalten und unterstützen Sie auch Kolleginnen auf dem Weg an die Spitze!
ADVANCED LEADERSHIP INSIGHTS
HOW TO LEAD PEOPLE, TEAMS AND ORGANIZATIONS TO ULTIMATE SUCCESS

Published 2017
Great leaders know that prestigious appointments do not only entail advantages, but also major responsibilities. They are willing to set high standards: First and foremost for themselves and only thereafter expect others to follow them. They never rest on their laurels, but embrace life‐long learning. They are thus inspirational roles models for others. They walk the talk and earn loyalty — do not just demand it. They have prepared themselves well without risking complacency or overplaying their strengths. They ensure that more than mere luck will allow them to succeed in a world full of ambiguity, change, dilemmas, and even trilemmas. Most importantly, they orient themselves to follow their moral compass. They also know that it has never been so easy to find inspiration, a reality check, and advice on the development of their situational solutions.
This book aims at providing such easy access to crucial insights into sustaining success. International top management and leadership consultants, lifelong learning experts, experienced executive coaches, and leadership faculty from leading business schools share their insights to help leaders cope with today's and tomorrow's complexity.
CONTENTS
Foreword and Acknowledgments, Wolfgang Amann and Katja Kruckeberg.Introduction, Wolfgang Amann and Katja Kruckeberg. PART I: LEADING YOURSELF TO ULTIMATE SUCCESS. A Quick Guide to Your Leadership Self‐Development, Konstantin Korotov. Leadership Presence: The Three Dimensions of a Sought‐After Leadership Quality, Katja Kruckeberg. Leadership and Neuroscience: An Inconvenient Truth, Jim Shipley. The Mindful Leader: Focusing Your Attention on What Matters, Jim Shipley. PART II: LEADING OTHERS TO ULTIMATE SUCCESS. The Five Success Factors of a Truly High‐Performing Team, Katja Kruckeberg. Negotiation Skills for Leaders: Transaction Utility in Negotiation, Matt Mulford. Reflective Leadership: Successfully Leading Your Team in a Complex World, Felix Müller and Ragna Kirberg. Blue Ocean Leadership and Why Psychometric Tools Are Still Useful, Wolfgang Amann.PART III: LEADING THE ORGANIZATION TO ULTIMATE SUCCESS.Navigating Complexity: Ten Golden Principles for CEOs Assuming Leadership, Katja Kruckeberg and Naysan Firoozmand. Stakeholder Management as a Leadership Challenge, Wolfgang Amann. Women in Leadership: Aspirations, Obstacles, Opportunities, Ruth Ann Lake and Christina Bombelli. Why Radical Innovation Needs Visionary Leadership, Tamara Carleton, William Cockayne, Andreas Larsson, and Bernhard Küppers. Leaders as Change Master, Marios L. Katsioloudes and Vicky Katsioloudes. How to Succeed in a Political Organization, Bertolt Stein and Tobias Mahr. Conclusions—Emerging Insights on Advanced Leadership, Wolfgang Amann and Katja Kruckeberg. About the Contributors.
Leadership and Personal Development

A Toolbox for the 21st Century Professional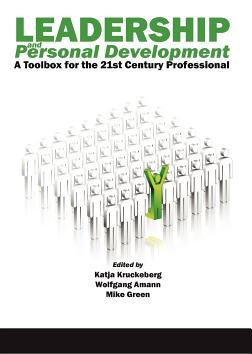 "The significant problems we face cannot be solved at the same level of thinking we were at when we created them." — Albert Einstein.
Modern business leaders are just too aware of how much the world has changed in the last decades and continues to do so. It is little wonder then that even the best of us can feel overwhelmed by the many demands we now face in our working and private lives. Summarizing the knowledge and experiences of three experts in the field, and offering practical insights from specialists around the world, this book offers a new approach to leadership and personal development by focussing on the links between these two areas. The good old times of planning one's development in a linear, step-by-step fashion over a lifetime are over. While recognising that there are different learning styles and personality types, the authors present a more proactive, flexible and emergent approach to your development. Topics such as sustainability, complexity and creativity are considered key issues that should play a role in not only developing a positive, future society, but also in refining the current and future you. This modern approach will give you a cutting-edge advantage in our fast changing world. Since the three author whole heartedly agree with Einstein's maxim, this book should be considered an attempt to equip you with new levels of thinking and new skill sets to make you more successful at leading and developing yourself and others in a variety of contexts. With structured activities and proven techniques from people who have successfully applied the lessons found in this book, Leadership and Personal Development, A toolbox for the 21 century professional, you will be armed with an effective approach to development.
Tausche Abendessen gegen Coaching
40 motivierende Ideen für Gespräche unter Freundinnen
Wie man mithilfe des Freundinnen- und Kolleginnen-Coachings ein erfolgreicheres und zufriedeneres Leben führen kann, zeigt Katja Kruckeberg in ihrem kreativen und innovativen Buch "Tausche Abendessen gegen Coaching". Auf humorvolle Weise, aber immer fundiert und kompetent, erklärt Dr. Katja Kruckeberg, wie ihr System des "Ideen- Sharings" funktioniert. Ein spannender Selbsttest zu den Themen Gesundheit, Arbeit, Beziehungen und Lebensträume sowie zahlreiche Erfolgserlebnisse von Menschen, die mit diesen Methoden schon Erfahrung gesammelt haben, animieren zum sofortigen Umsetzen. Und wer sich nicht mit einer Freundin oder einer Kollegin austauschen möchte – kein Problem! Die Methoden lassen sich genauso gut für ein Selbstcoaching oder für Gespräche mit dem Lebenspartner nutzen. Es gilt: Die Lektüre soll vor allem Spaß machen und Leichtigkeit vermitteln, so das Credo von Katja Kruckeberg.
bei Amazon bestellen